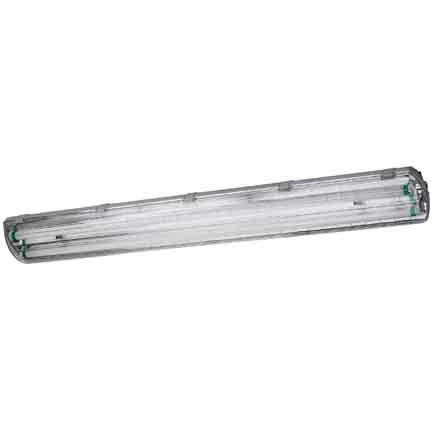 FW4T8
The FW4 fluorescent fixture is designed for rough service and wet location applications. The FW4 has a low profile 3-3/4″ (10cm) polycarbonate enclosure and lens, which is vandal resistant and UV stabilized. All hardware is rust proof. Ideal for tunnels, canopies, shipping docks, refrigerated areas or any non-hazardous environment that requires a wet location listing. Each unit is shipped with spare lens clips. Every box has a template for ease of marking for a faster installation. Also available in a 2 foot version T8 please see FW2-2T8. For a 4 foot version in T5 please see FW4-2T5.
---
Polycarbonate, UV stabilized housing with conduit entries at either end.
All hardware is rust proof.
Clear polycarbonate, UV stabilized lens that is tightly secured to the housing with polycarbonate clips. Spare clips are provided with each unit.
Specular aluminum reflector is held in place with metal clips and is tethered to the housing for easy installation.
Electronic instant start ballast for T8.
120/277V ballast for 2-lamps.
Each unit comes with quick disconnects.
Available with Advance or Osram Sylvania ballast as well as dimmable and high efficiency ballast.
For ceiling, surface or pendant mount. Each fixture comes with a mounting template located on the side of the box for easy installation.
Fixture takes 2 X 32W T8 lamps – Not included.
IP65.