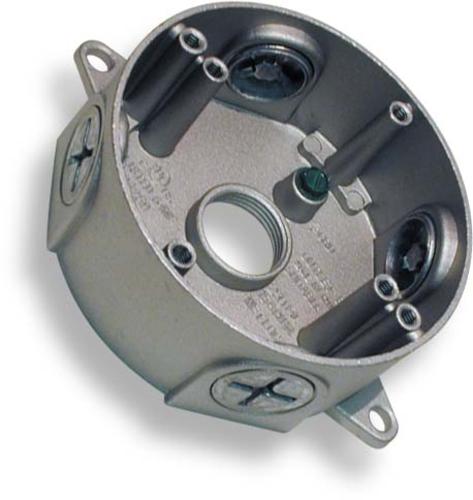 3/4DVXJ/LC
The DVXJLC box is available with 1/2 or 3/4 inch threaded conduit entries. Comes complete with four plugs and ground mounting screw installed. Ideal for use in commercial and industrial applications.
---
Precision die cast aluminum, 4″ diameter box comes with two opposing mounting feet.
There are 4 internal posts for mounting covers, 90 degrees apart. Two additional posts at 180 degrees apart for universal cross bars. One post for ground wire screw plus all posts are 10-24 tapped.
Five conduit entries, four on the side and one on the bottom.
Each unit comes complete with neoprene gasket, 4 threaded plugs to match side entries, brass screws and one ground screw installed.